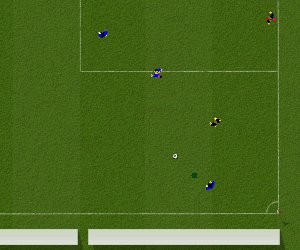 Soccer.kiekko.tk
Soccer.kiekko.tk is a multiplayer soccer game. You need nothing more than a web browser with Java support to play. Each player except goalkeepers is human-controlled; one person controls just one player. The emphasis is on playability and tactics; the graphics are simple 2D allowing you to easily get a general picture of the happenings. Controlling the player is done entirely by mouse.
How to begin
Move the pointer on these instructions to see screenshots.
Click Play on the top menu to start the game. Wait until you see the Match Selection screen.
Click the Create new button to show the New room creation screen.
Check the Practise room checkbox. You can choose a password for the room if you want to practise on your own.
Click Create. You will be taken to the match startup screen. Check the Ready checkbox to start practising.
Your player will follow the mouse pointer. Use left mouse button to kick the ball; the longer time you press before releasing, the more powerful kick.
Use right mouse button to pass the ball to a teammate.
Consider registering an account. This allows you to e.g. chat with other players, view your statistics, join a team or start your own to compete with other teams!